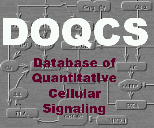 Enter a Search String
Special character and space not allowed in the query term. Search string should be at least 2 characters long.
Reaction List for pathway PLCbeta (Pathway Number 151) in Accession NonOsc_Ca_IP3metabolism (Accession Number 31)
Entries are grouped according to Pathway Number and they are alternately color coded using

and

color.
Further ordering can be done to the table header.


indicates that ordering is done according to ascending or descending order.
Keq is calculated only for first order reactions.
Kd is calculated only for second order reactions. [nA+nB <->nC or nA<->nC+nD, where n is number and A,B,C,D are molecules]