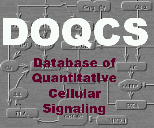 CO_activation_
of_GC
Enter a Search String
Special character and space not allowed in the query term. Search string should be at least 2 characters long.
Accession information for CO_activation_of_GC (Accession Number 28)
Reaction Scheme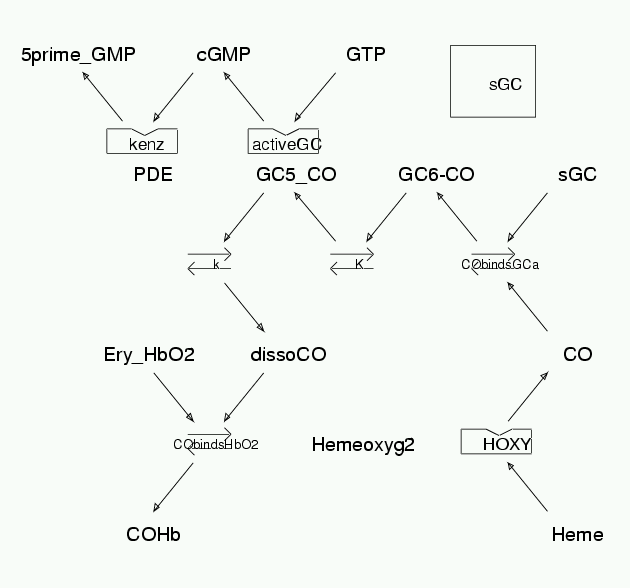 Accession Basic Parameters
Name
CO_activation_of_GC
Accession Type
Pathway
Transcriber
Sudhir Sivakumaran, NCBS
Developer
Sudhir Sivakumaran, NCBS
Entry Date (YYYY-MM-DD)
2002-01-22
Species
Bovine
Tissue
Lungs
Cell Compartment
Cytosol
Source
In-house
Methodology
Quantitative match to experiments, Qualitative
Model Implementation
Exact GENESIS implementation
Model Validation
Replicates orginal data, Approximates original data
Notes
Carbon Monoxide is an activator of soluble Guanylyl Cyclase and has been implicated as a neuronal messenger [Ingi T. et al. Neuron (1996) 16(4):835-42].
CO binds to the heme group on sGC, similar to NO binding. Exogenous CO at similar conc. to endogenous levels were used to study the extent of activation of GC. Olfactory receptor neurons were used by Ingi et al., to investigate the relationship of CO to cGMP levels, as these cells have high levels of HO activity but no NOS activity.
Kharitonov VG. et al. Proc Natl Acad Sci U S A. (1995) 92(7):2568-71 and
Kharitonov VG. et al. Biochemistry (1999) 38(33):10699-706 report the presence of a six coordinate and a five coordinate intermediate of carboxy GC, induced by CO. Considering that activation of sGC by CO is similar in almost all tissues, some rates have been taken from original published works cited as references in Kharitonov et al., and Ingi et al., the primary datasources, this model is based on.
Conversion formats
---
Database compilation and code copyright (C) 2005, Upinder S. Bhalla and NCBS/TIFR
This Copyright is applied to ensure that the contents of this database remain freely available. Please see FAQ for details.