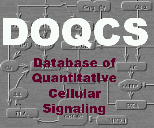 Links to other resources for databases and simulators of signaling pathways
Some of these entries have been borrowed from the computational cell biology project at the University of Cambridge.
---
Computational cell biology resources
---
E. coli databases
---
Enzyme databases
---
Cell biology modeling and specification language projects
---
Simulators for signaling pathways.
---
Running models on-line. (To be implemented)
This forthcoming feature will initially allow predefined signaling models in the database to be loaded and run. Subsequently it will be extended to allow construction of the model on-line as well. The Virtual Cell site already allows this kind of on-line model definition and simulation.
---
Database compilation and code copyright (C) 2005, Upinder S. Bhalla and NCBS/TIFR
This Copyright is applied to ensure that the contents of this database remain freely available. Please see FAQ for details.