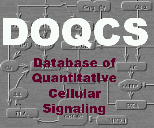 | | |
| --- | --- |
| | Chemotaxis |
Enter a Search String
Special character and space not allowed in the query term. Search string should be at least 2 characters long.
Accession information for Chemotaxis (Accession Number 57)
Reaction Scheme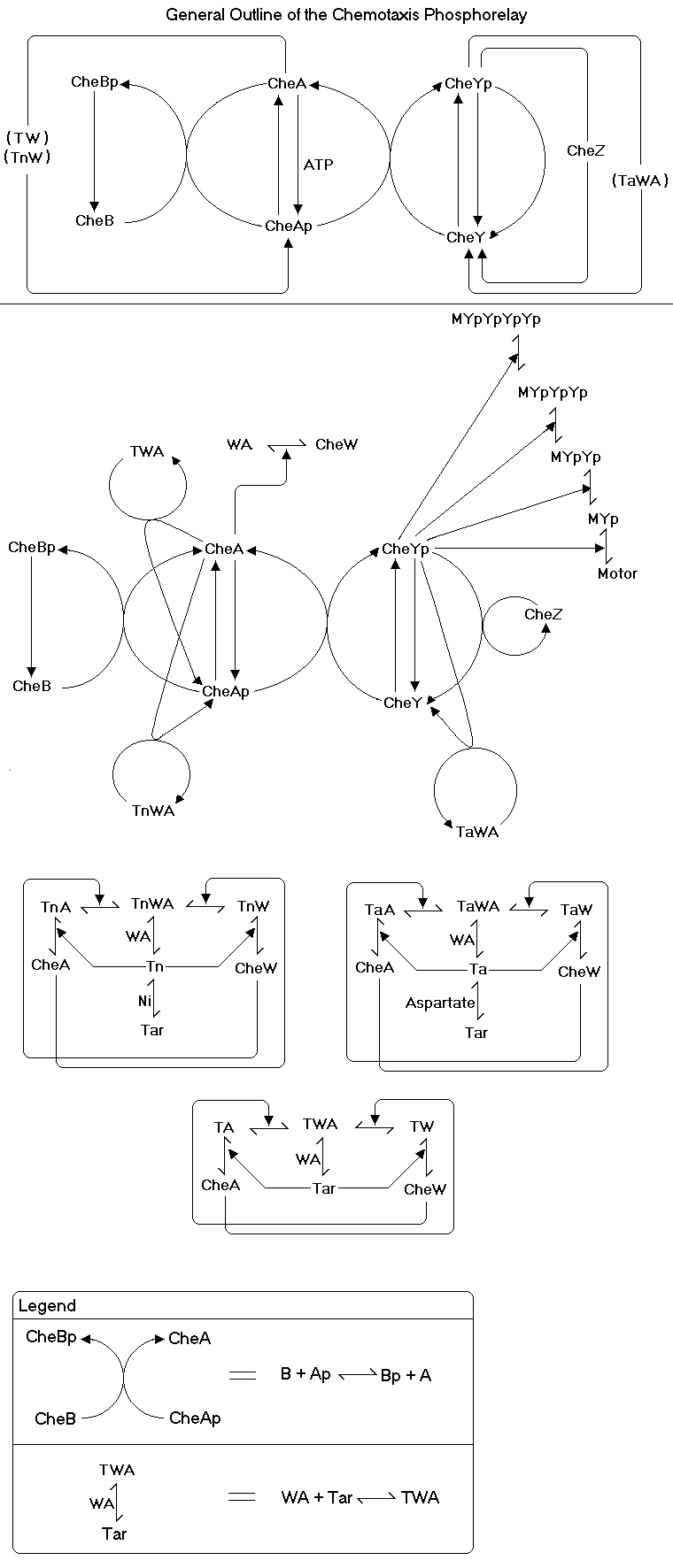 Accession Basic Parameters
Name
Chemotaxis
Accession Type
Pathway
Transcriber
Sharat J. Vayttaden, NCBS
Developer
Dennis Bray, Robert B. Bourret and, Melvin I. Simon, Cambridge and Caltech
Entry Date (YYYY-MM-DD)
2003-06-10
Species
E. Coli
Tissue
-
Cell Compartment
Cell membrane + cytosol
Source
Bray et al. Mol.Biol.Cell (1993) 4(5): 469-482. ( peer-reviewed publication )
Methodology
Qualitative
Model Implementation
Mathematically equivalent
Model Validation
Replicates original data
Notes
Reactions feeding into TnWa, TaWA and TWA are scaled by 10 Binding reaction of Tar with Aspartate has been scaled by 10 Phosphotransfer from CheAp to CheY has Kb = 0.263/sec/uM instead of 0.2/sec/uM used in BCT1.1.
All remaining parameters are from the .BCT files for BCT1.1 provided by Matthew Levin from the Computational Biology Group in the Department of Zoology at the University of Cambridge.
The June 2003 version of the BCT program is BCT4.3 and is available at the computational biology site of the Zoology department at Cambridge University.
Citation: Bray et al. Mol.Biol.Cell (1993) 4(5): 469-482.
Conversion formats
| | |
| --- | --- |
| Format | File |
| Native Format (GENESIS format) | acc57.g |
| GENESIS Format (Annotated version) | Anno_acc57.g |
---
Database compilation and code copyright (C) 2005, Upinder S. Bhalla and NCBS/TIFR
This Copyright is applied to ensure that the contents of this database remain freely available. Please see FAQ for details.